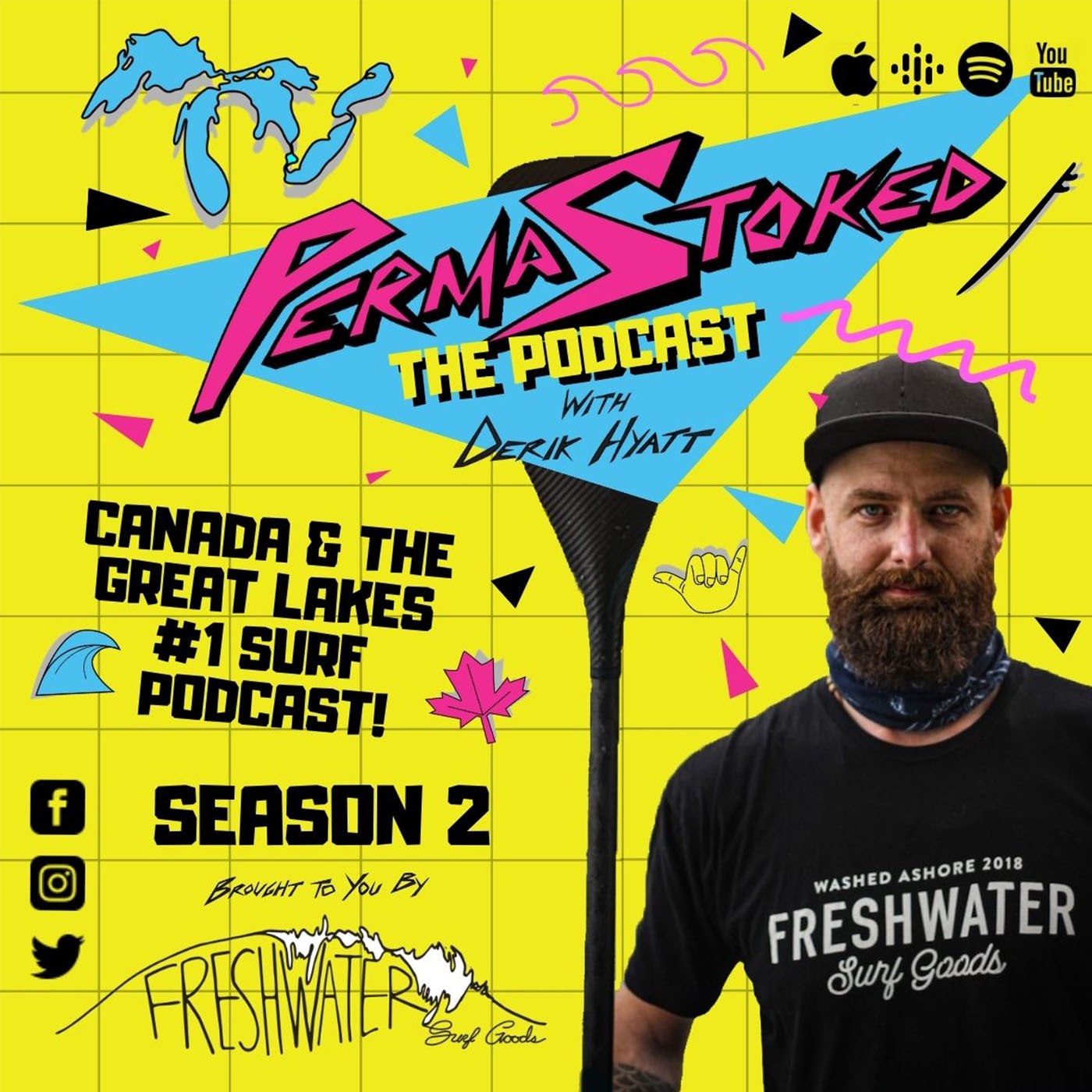 #PERMASTOKED, Episode 13: Keana & Nailani Cavero – 2020 Virtual 20th Beach Cleanup at The Cove… Now Available Free for Streaming and Download on the Alexa App, iTunes / Apple Podcasts at https://podcasts.apple.com/ca/podcast/permastoked/id1518415157,  Deezer, Pandora, Podbean, Google Podcasts at https://podcasts.google.com/search/permastoked, Stitcher, Spotify at https://open.spotify.com/show/6qsR6lN7M7edO798HSBxpj, iHeart Radio, TuneIn or wherever you get your podcasts.  You can also Watch the Show on our YouTube Channel at https://www.youtube.com/channel/UChueUd4VG0WYXN3ky532vzg?.  Be sure to Listen, Rate, Review and Share!
In this episode, Derik Hyatt interviews Keana and Nailani Cavero about the 2020 Virtual 20th Beach Cleanup at The Cove and its origins.  We also learn how Nailani got her name, about Keana's future political aspirations, what it's like being the offspring of Larry Cavero and how Barbie was the catalyst for their earliest surfing days.  We even get a sneak peek into Keanaila Surfboards before the interview is delightfully crashed by Dad, cocker spaniel puppy "Toby" and Nacho, the land loving turtle who believes he is a dog.
Connect with Keana and Nailani on Facebook at @SurfDreamsCanada and on Instagram at @surfdreamscanada and @keananailasurfboards    and @_kcavero and @naila.mrzll.  Don't forget, that throughout September 2020, you are encouraged to visit any beach or green space to pickup litter.  Email a photo or short video of you collecting trash to info@twentyvalleymedia.com with "beach cleanup" in the subject line to be entered into a raffle for a chance to win cool merchandise from rad sponsors!  In addition, 3 individuals from the community will each be awarded a trophy for their amazing efforts in keeping our lakes clean and for sharing the stoke!  Please participate and help make our beaches a cleaner and healthier space to live, play and surf in!
This episode was recorded on August 28, 2020 and is family friendly.
Escape to Ontario's west coast for a day of paddle boarding and surfing on the crystal clear waters of Lake Huron by joining SurfsUp Eco Shop and Freshwater Surf Goods as we team up to offer you a 5 hour SUP / Surf Day Retreat.  The day begins by warming up with SUP and surf targeted yoga led by Eric Cunliffe of Shakti Rhythm Yoga.  Next, you will learn everything you need to know to be certified in Paddle Canada's Basic SUP Skills on and off the water, before ending the day with a Surf Basics lesson that will prepare you to take on freshwater waves with confidence.  In between activities, you will have a chance to explore the beautiful communities of Kincardine or Goderich, both offering independent shopping, cafe's, breweries and restaurants.  Sign up today as class sizes are limited.  Don't miss out on this amazing offer for only $125.00.  Retreats will be offered in Kincardine on Saturday, September 12th, 19th, October 24th and 31st 2020 as well as in Goderich on Saturday September 26th and October 3rd, 2020.  Visit www.surfsupecoshop.com to reserve your spot today!
To reach Derik Hyatt for comments, questions, collaboration, sponsorship, business enquiries or bookings, including SUP and yoga, please email info@freshwatersurfgoods.com.
Permastoked is brought to you by Freshwater Surf Goods.  Your surf brand devoted to spreading the stoke across the unsalted seas and cultivating pride amongst the surf community.  We do this by providing products and apparel that celebrate the awesomeness of both Great Lakes and Canadian surf culture.  Look for our products in a surf shop near you, such as SurfSup Eco Shop in Kincardine and Goderich where you can also find Derik Hyatt teaching surf, SUP and yoga.
For more information, visit www.freshwatersurfgoods.com and be sure to sign up for our newsletter.  You can also find us on Facebook, Instagram, and Twitter at @freshwatersurfgoods.  To stay up-to-date on all things surf and SUP from across Canada, be sure to join our Facebook Group, the All Canadian Surf & SUP Club.  Mahalo for listening and stay stoked!
LINKS
Web: www.freshwatersurfgoods.com
Facebook: www.facebook.com/freshwatersurfgoods
Instagram: www.instagram.com/freshwatersurfgoods
YouTube: www.youtube.com/channel/UChueUd4VG0WYXN3ky532vzg?
Twitter: www.twitter.com/fwsurfgoods
Pinterest: www.pinterest.ca/freshwatersurfgoods
LinkedIn: www.linkedin.com/company/freshwater-surf-goods
All-Canadian Surf & SUP Club Facebook Group:
www.facebook.com/groups/306681953832086
SurfSup Eco Shop: www.surfsupecoshop.com
 A SPECIAL MAHALO TO
We acknowledge that this podcast is recorded on the unceded, ancestral and occupied traditional territory of the Anishinabek Nation: the People of the Three Fires known as Ojibwe, Odawa and Pottawatomie Nations and further give thanks to the Chippewas of Saugeen and the Chippewas of Nawash, now known as the Saugeen Ojibway Nation, as the traditional keepers of this land.  As we live, work, surf and play, we say Mahalo to the Métis, Inuit and Indigenous Peoples of Turtle Island and from around the world, who have stewarded these lands and sacred surf spots for thousands of years.
Mark Malibu & The Wasagas for providing our intro music "Hey Chiwawa" off their 2009 album Crash Monster Beach and our outro music "End of Summer" off their 2017 album Return of the Wasagas.  For more information, visit www.wasagas.com and listen to them on Spotify or iTunes.
Damajuana reggae uploaded by detroitbase on 2019-08-30 to https://archive.org/details/reggae_201908.  Public License available at https://creativecommons.org/licenses/by-nd/4.0/legalcode.  (Original length = 2:30.)
Ukelele Parade by Fernando Oyaguez Reyes published May 22, 2014 and uploaded to https://archive.org/details/UkeleleParade.  Public License available at https://creativecommons.org/licenses/by-nc/3.0/legalcode.  (Original length = 2:44. Modified to 1:42.)