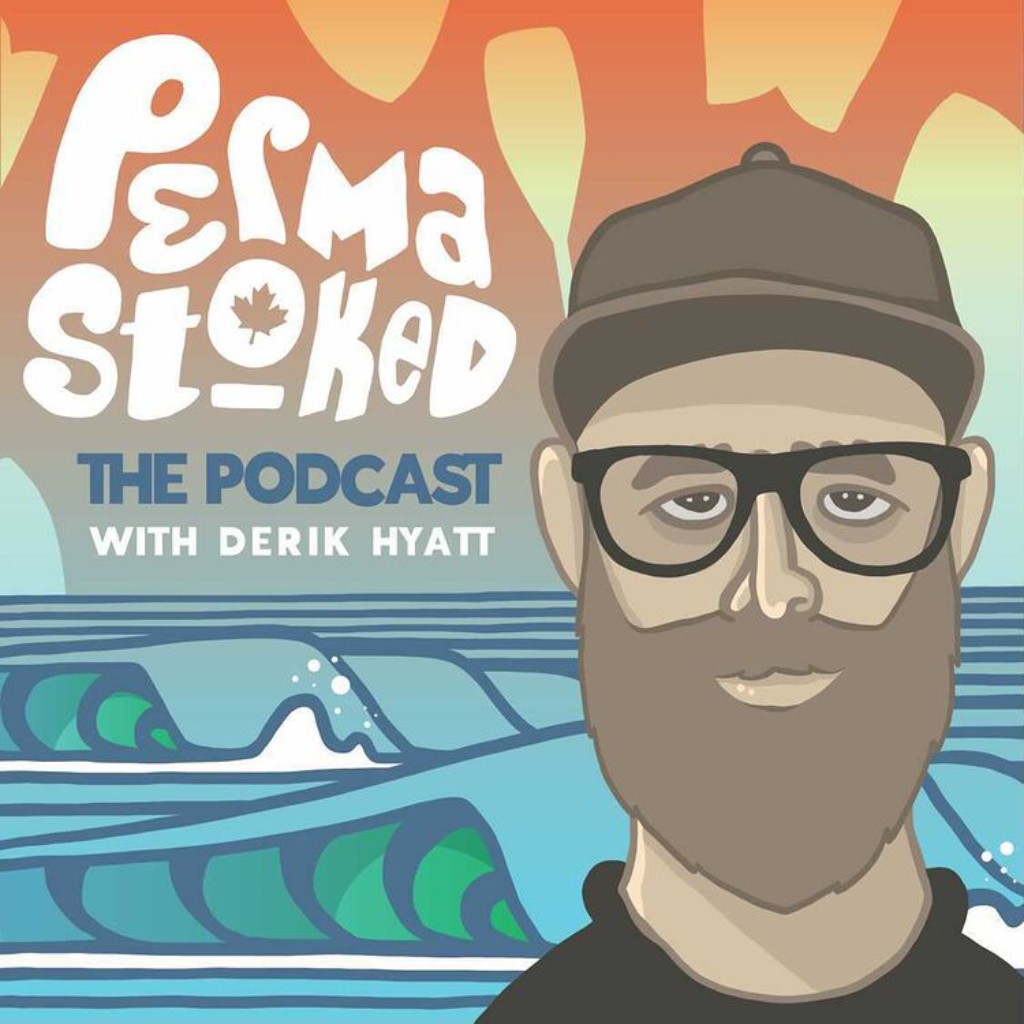 Your Canadian & Great Lakes Surf / SUP Podcast #PERMASTOKED with #DerikHyatt, Season 2 Episode 14: Norm Hann - Get Up, Stand Up, Standup4Greatbear, is brought to you by @freshwatersurfgoods and is NOW AVAILABLE for streaming and download on:
https://www.amazon.com/Permastoked-with-Derik-Hyatt/dp/B08K59QPBV
https://podcasts.apple.com/ca/podcast/permastoked-with-derik-hyatt/id1518415157
https://podcasts.google.com/search/permastoked
https://www.iheart.com/podcast/269-permastoked-with-derik-hya-65366207/
https://open.spotify.com/show/6qsR6lN7M7edO798HSBxpj
https://www.stitcher.com/show/permastoked
https://tunein.com/podcasts/Sports--Recreation-Podcasts/Permastoked-p1333686/
Or wherever else you get your podcasts.  Help us spread the stoke by leaving us a RATING and REVIEW after you LISTEN / WATCH and SHARE!
In this episode, Derik Hyatt chats with Norm Hann about his passion for oceans, coastlines, and the powerful connection between people and the environment.  After a university basketball and high school teaching career in Sudbury, Ontario, Norm made the decision to travel west to enroll; in a wilderness guide training program in Vancouver. Upon completion he was hired as an adventure guide in the Great Bear Rainforest on the north coast of British Columbia.  In 2006, he was given the ultimate coastal honour of being adopted by Eva Hill into the Raven Clan and given the name T'aam Laan meaning "Steersman of the Canoe."
In 2008, Norm discovered stand up paddleboarding and with almost a decade of guiding experience under his belt in the Great Bear Rainforest, Norm Hann Expeditions was born.  Shortly after the first couple of sup trips to the Great Bear, the real threat of oil tankers traveling through the area began to take shape in the form of the Northern Gateway Project.  Norm decided to paddle the proposed tanker route. The route was from Kitimat 400km south to Bella Bella. The expedition was called Standup4Greatbear and to inform everyone of what was at risk. Standup4Greatbear Society continues to promote the education, awareness, and protection of the Great Bear Rainforest and the Great Bear Sea, through conservation expeditions, featured talks and presentations.  In 2012, Norm was contacted by acclaimed filmmaker Anthony Bonello to bring the story of the threat to the coast to a larger audience. Shortly after recruiting talented photographer Nicolas Teichrob, the Stand film project began. The film highlights Norm's 350km expedition along the coast of Haida Gwaii, the Heiltsuk students of Bella Bella building their own wooden cedar paddleboards, along with the surfing and coastal connection of waterman and Tofino local Raphael Bruhwiler.  Norm believes that as paddlers we have a responsibility to stand up for these places that give us so much and to protect these areas for future generations.  Norm Hann Expeditions can connect you with powerful environments so that you can build your own personal connections and experience the things in life that matter the most.
This episode was recorded on March 17, 2021 and may contain coarse language that could be deemed offensive.  Listener discretion is advised.
To reach Derik Hyatt for comments, questions, collaboration, sponsorship, business enquiries or bookings, including Surf, SUP and Yoga, please email info@freshwatersurfgoods.com.
Permastoked is presented by Freshwater Surf Goods.  Your surf brand devoted to spreading the stoke across the unsalted seas and cultivating pride amongst the Canadian surf community.  We do this by providing products and apparel that celebrate the awesomeness of both Great Lakes and Canadian surf culture.  Stand out in the tribe by rocking our gear!
But don't just stand around on the beach looking cool, check out our Stoke Academy and try surfing and stand up paddleboarding.  Get away to Ontario's magnificent Bruce Peninsula where we offer Paddle Canada certified Basic and Advanced SUP courses, custom experiences, private lessons, tours, SUP Surfing, yoga, SUP yoga and even beginner surf lessons.  Visit www.freshwatersurfgoods.com to sign up for your freshwater fantasy today!
For more information, visit www.freshwatersurfgoods.com and be sure to sign up for our newsletter.  You can also find us on Facebook, Instagram, and Twitter at @freshwatersurfgoods.  Stay up-to-date on all things surf and SUP from across Canada, by joining our Facebook Group, the All Canadian Surf & SUP Club.  Mahalo for listening and stay stoked!
LINKS
Facebook: www.facebook.com/freshwatersurfgoods
Instagram: www.instagram.com/freshwatersurfgoods
Twitter: www.twitter.com/fwsurfgoods
Pinterest: www.pinterest.ca/freshwatersurfgoods
LinkedIn: www.linkedin.com/company/freshwater-surf-goods
All Canadian Surf & SUP Club Facebook Group:
www.facebook.com/groups/306681953832086
 A SPECIAL MAHALO TO
We acknowledge that this podcast is recorded on the unceded, ancestral and occupied traditional territory of the Haudensaunee (Iroquois), and  the Anishinabek; including Ojibway (Ojibwe) First Nations: Chippewas of Nawash and the Saugeen Ojibway Nation forming the Chippewas of Saugeen Ojibway Territory who we recognize as the traditional keepers of this land.  As we live, work, surf and play, we say Mahalo to the Métis, Inuit and Indigenous Peoples of Turtle Island and from around the world, who have stewarded these lands and sacred surf spots for thousands of years.
Mark Malibu & The Wasagas for providing our intro music "Hey Chiwawa" off their 2009 album Crash Monster Beach and our outro music "End of Summer" off their 2017 album Return of the Wasagas.  For more information, visit www.wasagas.com and listen to them on Spotify or iTunes.
Damajuana reggae uploaded by detroitbase on 2019-08-30 to https://archive.org/details/reggae_201908.  Public License available at https://creativecommons.org/licenses/by-nd/4.0/legalcode.  (Full length = 02:30.)
Ukelele Parade by Fernando Oyaguez Reyes published May 22, 2014 and uploaded to https://archive.org/details/UkeleleParade.  Public License available at https://creativecommons.org/licenses/by-nc/3.0/legalcode.  (Original length = 02:44. Modified to 01:00.)