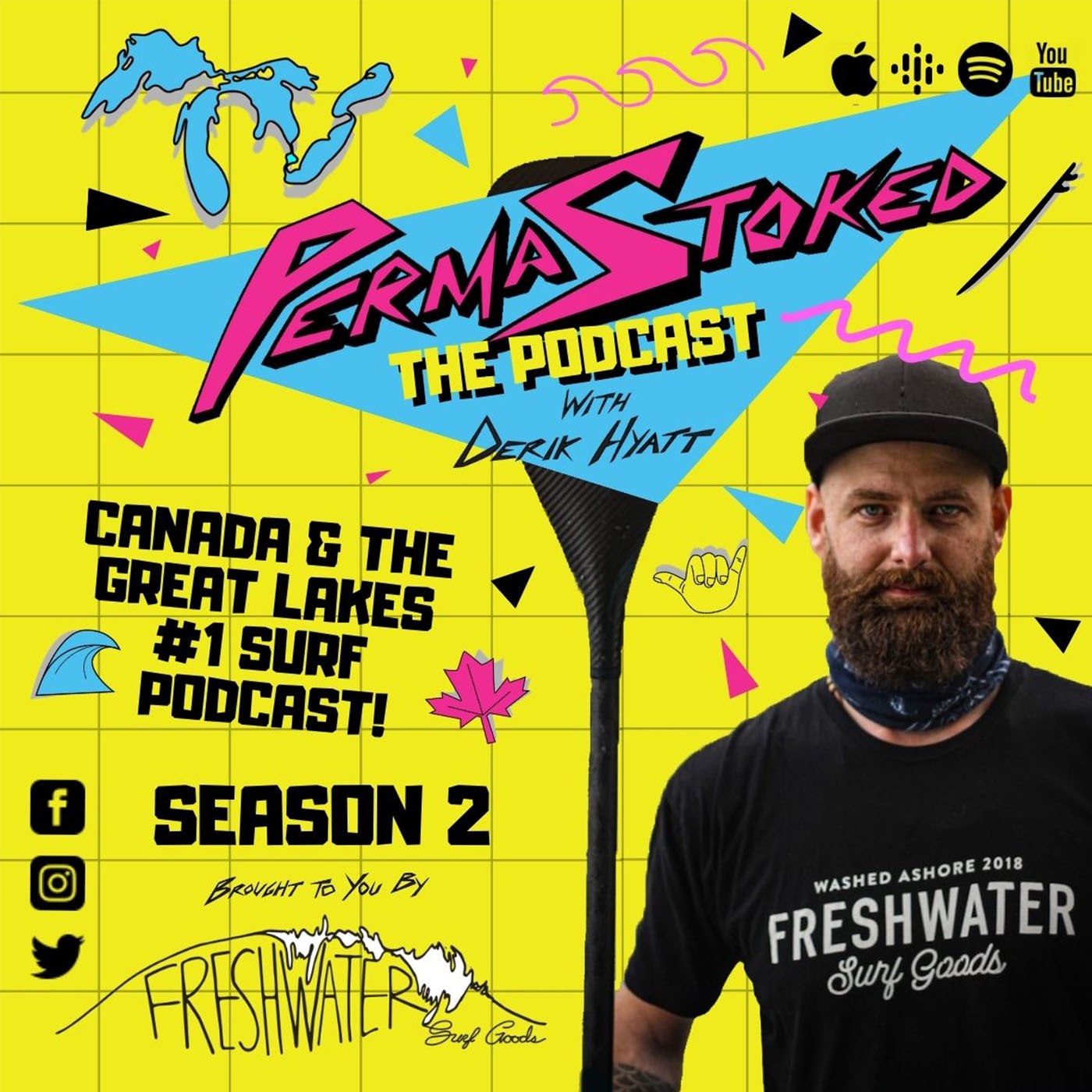 @freshwatersurfgoods presents #PERMASTOKED, Your #Canadian & #GreatLakes #Surf & #SUP #Podcast, Season 2 Episode 3: Reta Boychuk – Full Send…sponsored by Surfin' Eh!? Magazine @surfin_eh & The Central Canadian Surfing Association @centralcanadiansurfing is Now Available Free for Streaming and Download on the Alexa App, Amazon Music, iTunes, Apple Podcasts at https://podcasts.apple.com/ca/podcast/permastoked/id1518415157,  Podbean, Google Podcasts at https://podcasts.google.com/search/permastoked, iHeart Radio Stitcher, Spotify at https://open.spotify.com/show/6qsR6lN7M7edO798HSBxpj, YouTube at https://www.youtube.com/channel/UChueUd4VG0WYXN3ky532vzg? Or wherever else you get your podcasts from.  Be sure to Listen, Rate, Review and Share!
Reta is an all around whitewater paddling enthusiast that specializes in whitewater stand up paddling.  She has paddled on rivers in Alberta, British Columbia, Colorado, Costa Rica and Ecuador.
In addition to SUP you can always find Reta going with the flow; singing her way down a river behind the oars, working on crushing bigger lines in her kayak or sending it!  Reta just wants to be on the water!
Reta is the founder of CANRVRSUP Instructor Collective.  She started the collective to bring instructors together in hopes of supporting her passion to grow a safe community of River Stand Up Paddlers through quality instruction and training. As head instructor and Paddle Canada Certified Instructor Trainer, she plans to work with all the collective instructors to provide high quality training for all students wanting to take courses related to SUP.
Reta fell in love with SUP after she was first introduced to it in 2010.  It is a sport that anyone can enjoy and the sport can be as challenging as you want it to be as you progress from flat water on lakes to whitewater on the rivers.
Reta's favourite places to paddle are the Kananaskis Valley in Alberta, Trail Wave on the Columbia River in British Columbia and the Tana River in Ecuador.
Connect with  Reta online at https://www.canrvrsup.ca, on Facebook at @canrvrsup, Instagram at @canrvrsup and YouTube at Reta Boychuk.
This episode was recorded on January 21, 2021 and is family friendly.
To reach Derik Hyatt for comments, questions, collaboration, sponsorship, business enquiries or bookings, including surf, SUP and yoga, please email info@freshwatersurfgoods.com.
Permastoked is brought to you by Freshwater Surf Goods.  Your surf brand devoted to spreading the stoke across the unsalted seas and cultivating pride amongst the surf community.  We do this by providing products and apparel that celebrate the awesomeness of both Great Lakes and Canadian surf culture.
For more information, visit www.freshwatersurfgoods.com and be sure to sign up for our newsletter.  You can also find us on Facebook, Instagram, and Twitter at @freshwatersurfgoods.  To stay up-to-date on all things surf and SUP from across Canada, be sure to join our Facebook Group, the All Canadian Surf & SUP Club.  Mahalo for listening and stay stoked!
A SPECIAL MAHALO TO
We acknowledge that this podcast is recorded on the unceded, ancestral and occupied traditional territory of the Anishinabek Nation: the People of the Three Fires known as Ojibwe, Odawa and Pottawatomie Nations and further give thanks to the Chippewas of Saugeen and the Chippewas of Nawash, now known as the Saugeen Ojibway Nation, as the traditional keepers of this land.  As we live, work, surf and play, we say Mahalo to the Métis, Inuit and Indigenous Peoples of Turtle Island and from around the world, who have stewarded these lands and sacred surf spots for thousands of years.
Mark Malibu & The Wasagas for providing our intro music "Hey Chiwawa" off their 2009 album Crash Monster Beach and our outro music "End of the Summer" off their 2017 album Return of the Wasagas.  For more information, visit www.wasagas.com and listen to them on Spotify or iTunes.
Mahalo to The Planet Smashers and Stomp Records for allowing us to play "Surfin' In Tofino" off their 1999 album Life of the Party.  Visit them at www.planetsmashers.ca and listen to them on Spotify or iTunes.
Damajuana reggae uploaded by detroitbase on 2019-08-30 to https://archive.org/details/reggae_201908.  Public License available at https://creativecommons.org/licenses/by-nd/4.0/legalcode.  (Original length = 2:30.)
Ukelele Parade by Fernando Oyaguez Reyes published May 22, 2014 and uploaded to https://archive.org/details/UkeleleParade.  Public License available at https://creativecommons.org/licenses/by-nc/3.0/legalcode.  (Original length = 2:44. Modified to 1:00.)
Video background courtesy of Freepik at https://www.freepik.com/premium-vector/forest-panorama-view-pines-spruce-nature-landscape-forest-background-set-pine-spruce-christmas-tree-white-background-silhouette-forest-background-vector-illustration_12716857.htm