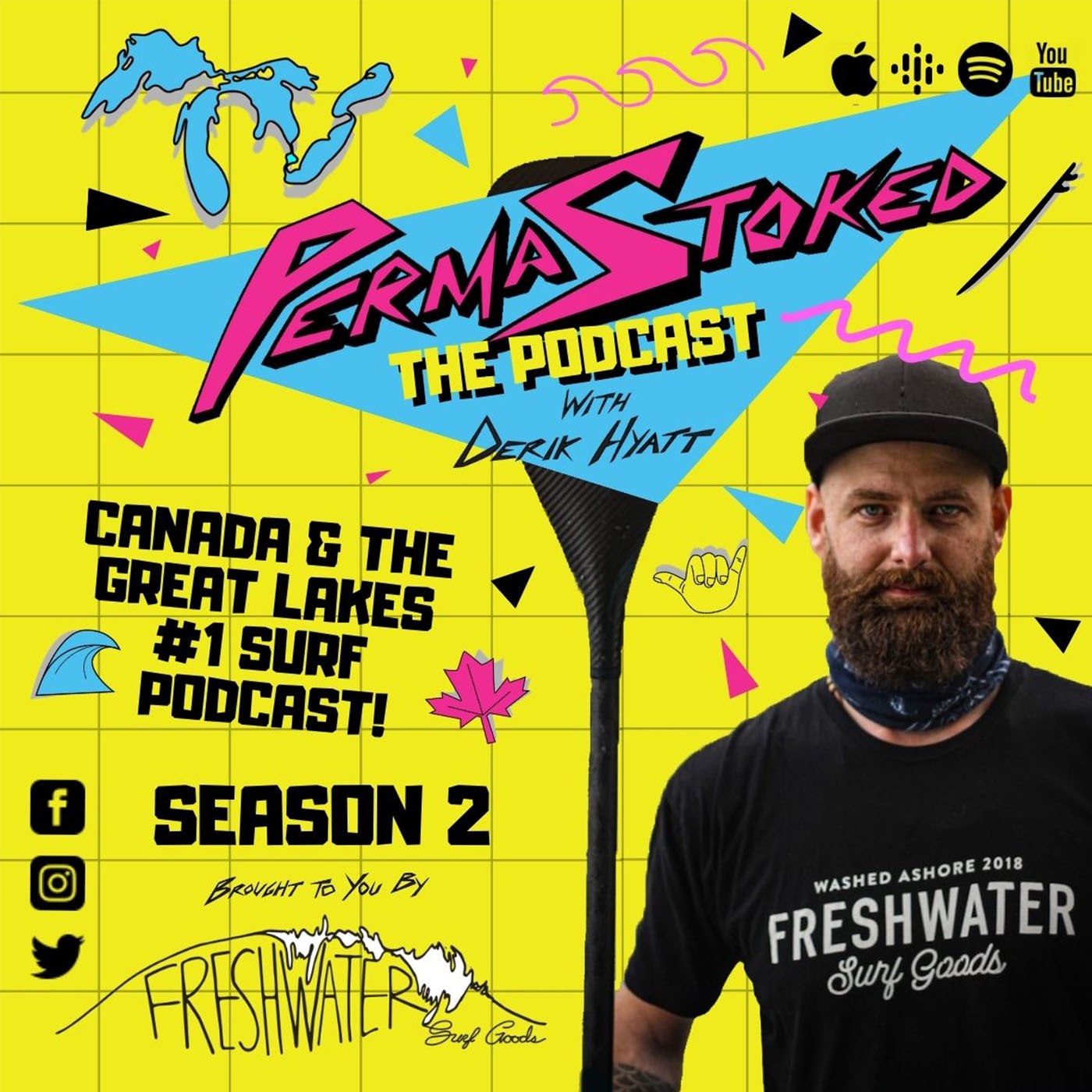 PERMASTOKED, Episode 16: Wayley & Kadeema's Tal Vaisman – Toronto Surfapalooza!…Now Available Free for Streaming and Download on the Alexa App, iTunes / Apple Podcasts at https://podcasts.apple.com/ca/podcast/permastoked/id1518415157,  Deezer, Pandora, Podbean, Google Podcasts at https://podcasts.google.com/search/permastoked, Stitcher, Spotify at https://open.spotify.com/show/6qsR6lN7M7edO798HSBxpj, iHeart Radio, TuneIn or wherever you get your podcasts.  You can also Watch the Show on our YouTube Channel at https://www.youtube.com/channel/UChueUd4VG0WYXN3ky532vzg?.  Be sure to Listen, Rate, Review and Share!
In this episode, Derik Hyatt interviews Toronto musicians and surfers, Wayley and Kadeema guitarist, Tal Vaisman.  They discuss both their musical and surfing origins and influences, becoming Wayley, moving forward with Kadeema, the hospitality of the Toronto surfing scene and finally whether or not the music of Jack Johnson is considered cool or passe.
Born and raised in Toronto, Wayley blends Indie, Folk, and Pop, to create a full band sound and anthem-style sing-alongs similar to the likes of Vance Joy, The Lumineers, and George Ezra.  At age 18, Wayley moved to a small beach town on the east Coast of Australia called, Coogee.  This is where he developed a love and passion for surfing, which he draws a huge amount of inspiration from.  His lyrics explore subjects anywhere from heartbreak to self encouragement that are held together by catchy choruses and sounds bites that you won't forget.  After moving back to his hometown of Toronto, Wayley released his first single off his forthcoming EP in May of 2020, which received high praise from the press. After signing with Paris based Publishing Company ORA, he released his newest single "Waiting for You" in August of 2020.
Tal Vaisman is a Toronto based producer, engineer, songwriter and professional guitar player.  He is an honorary graduate of the Metalworks Institute Audio Production/Engineering program and has worked with a multitude of both local and international musical acts over the years.  His musical work credits range from Canadian rock bands like Black Collar Union, Little Foot Long Foot, Sons Of Revelry, The Envy to Sway Clarke II under Island Records UK, Hammercult (under SPV Records Germany) and many more.  Tal has also worked with EDM and pop acts such as Shaun Frank, Automatic Toys and Twin City and X.Ari.  Some more recent credits include playing guitar for rising Country singer, Justin Tyler, and Canadian pop singer, Victoria Duffield, as well as production for Christee Palace, Julian Daniel and American teenage pop and American Idol contestant, Adem Dalipi.
Tal also contributes both as a songwriter and as a musical producer to Family Channel and Netflix shows such as The Next Step, Lost And Found and Orphan Black.
Tal has also composed music for various commercials for companies such as Mazda, Shoppers Drug Mart, Whirlpool, Nestle, Fiat and more.  In addition, Tal was the guitarist and one of two primary songwriters for the Ontario Rock band, Ascot Royals, with whom he toured Canada multiple times opening for bands like Big Wreck, Our Lady Peace and Matthew Good Band and many more.  They're singles "New Skin", "Best Is Yet To Come" and "Evil I Know" have received major airplay over rock radio stations as well as streaming platforms.  In 2017 they won the CASBY award for "Best New Act."  These days Tal plays in a new Band called Kadeema with his long time musical partner Jimmy Chauveau.
For more information, visit Wayley online at www.wayleymusic.com and on both Facebook and Instagram at @wayleymusic.  Also, be sure to check out Tal Vaisman's band, Kadeema, on Facebook and Instagram at @kadeemamusic.
This episode was recorded on September 23, 2020.  It contains explicit language.  Listener discretion is advised.
To reach Derik Hyatt for comments, questions, collaboration, sponsorship, business enquiries or bookings, including SUP and yoga, please email info@freshwatersurfgoods.com.
Permastoked is brought to you by Freshwater Surf Goods.  Your surf brand devoted to spreading the stoke across the unsalted seas and cultivating pride amongst the surf community.  We do this by providing products and apparel that celebrate the awesomeness of both Great Lakes and Canadian surf culture.  Look for our products in a surf shop near you, such as SurfSup Eco Shop in Kincardine and Goderich where you can also find Derik Hyatt teaching surf, SUP and yoga.
For more information, visit www.freshwatersurfgoods.com and be sure to sign up for our newsletter.  You can also find us on Facebook, Instagram, and Twitter at @freshwatersurfgoods.  To stay up-to-date on all things surf and SUP from across Canada, be sure to join our Facebook Group, the All Canadian Surf & SUP Club.  Mahalo for listening and stay stoked!
LINKS
Web: www.freshwatersurfgoods.com
Facebook: www.facebook.com/freshwatersurfgoods
Instagram: www.instagram.com/freshwatersurfgoods
YouTube: www.youtube.com/channel/UChueUd4VG0WYXN3ky532vzg?
Twitter: www.twitter.com/fwsurfgoods
Pinterest: www.pinterest.ca/freshwatersurfgoods
LinkedIn: www.linkedin.com/company/freshwater-surf-goods
All Canadian Surf & SUP Club Facebook Group:
www.facebook.com/groups/306681953832086
SurfSup Eco Shop: www.surfsupecoshop.com
A SPECIAL MAHALO TO
We acknowledge that this podcast is recorded on the unceded, ancestral and occupied traditional territory of the Anishinabek Nation: the People of the Three Fires known as Ojibwe, Odawa and Pottawatomie Nations and further give thanks to the Chippewas of Saugeen and the Chippewas of Nawash, now known as the Saugeen Ojibway Nation, as the traditional keepers of this land.  As we live, work, surf and play, we say Mahalo to the Métis, Inuit and Indigenous Peoples of Turtle Island and from around the world, who have stewarded these lands and sacred surf spots for thousands of years.
Mark Malibu & The Wasagas for providing our intro music "Hey Chiwawa" off their 2009 album Crash Monster Beach, our outro music "End of Summer" and "Twelve Year Itch" off their 2017 album Return of the Wasagas.  For more information, visit www.wasagas.com and listen to them on Spotify or iTunes.